Latest news on new health sciences building
Click here for more details about our new Health Sciences Building, which is on track to be completed in 2021.

---
Southwestern Community College's new $21 million Health Sciences Building is starting to take shape on the west side of the Jackson Campus as construction remains on schedule to finish by the summer of 2021.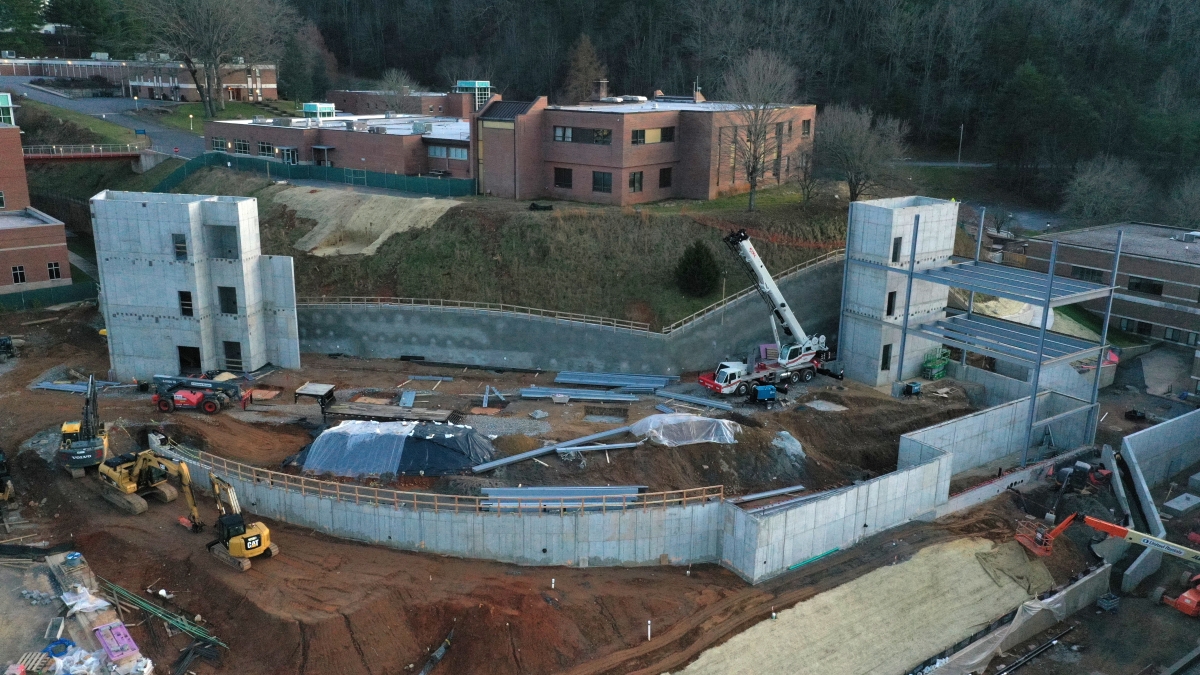 ABOVE: View of the construction zone as of Wednesday, Jan. 1, 2020. BELOW: A time lapse video of the construction progress throughout 2019.

As of Nov. 20, the structures for both stairwells and the elevator shaft have been erected. Steel framework is expected to start in mid-December.

Crews have been working diligently since breaking ground on May 6.

Designed by LS3P, the building project is overseen by Michigan-based Christman Company, which has a regional office in Knoxville, Tenn.

"We've been meeting with our construction team every week, and it's been impressive to watch the early stages of this building rise up from the ground," said SCC President Don Tomas. "Every morning when I drive onto campus, I can see something new. This building is going to change the landscape of SCC. We couldn't be more excited."

The 55,411-square-foot building will house 10 programs across 23 classrooms and labs, along with a pediatric gym.

A number of programs will offer free community clinics in the new building as an essential part of the learning process. These include:
Medical Assisting
Medical Laboratory Technology
Medical Sonography
Nursing
Occupational Therapy Assistant
Physical Therapist Assistant
Pulmonary Function Testing and Rehabilitation
Substance Abuse Counseling and Recovery
Therapeutic Massage

"We're pleased to see our programs and students become stronger than ever from the additional resources this new building will provide," said Mitch Fischer, Dean of Health Sciences. "Access to a wide variety of free healthcare services will greatly improve the quality of life in our area."

SCC has outgrown its Balsam Center, which was built in 1988 to house four healthcare training programs. The college now has 14 Health Sciences programs, and this building will allow Southwestern to add three more, pending approval from the N.C. Community College System.

Once those new programs come online, and once the existing programs are expanded, Southwestern will have the capacity to accommodate up to 144 additional students in the first year – and up to 288 additional students in the second year.

"The graduates of these programs can expect starting salaries significantly higher than the median poverty wage for both two- and four-person families," said Tomas. "Nearly 90 percent of our graduates remain in western North Carolina, providing the region with well-trained healthcare professionals while stimulating the local economy through higher salaries."

Funding sources for the project include more than $13 million from Jackson County, $5.4 million from the Connect NC bond and more than $2 million will be covered by an Economic Development Administration grant secured by SCC and Jackson County.
For past news items about our new Health Sciences building, click on the links below: