Therapeutic Massage program accepting first-ever spring cohort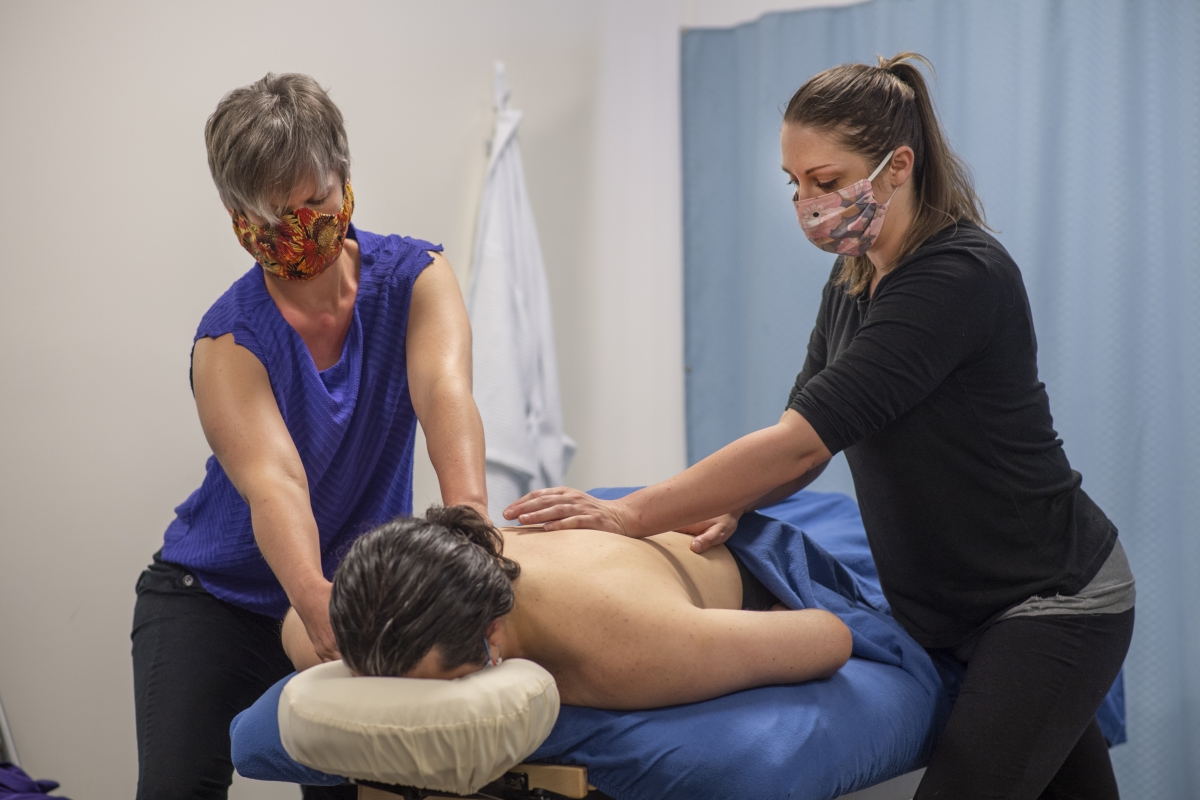 Students from SCC's Therapeutic Massage program practice massage techniques on one another. Pictured are, from left: Lindsay Cross of Waynesville, Derek Galarza (on table) of Sylva and Becky Chap of Orlando, Fla.
After surviving a major stroke in 2016, Brenda Lopez decided it was time to give back to the very field that helped her recover in the hopes of saving hundreds of others going through the same physical challenges.
Lopez, a 2018 graduate of Southwestern Community College's Therapeutic Massage program who now works at a private practice in Cashiers, came to SCC because of her life-changing experiences with massage therapy.
"For me, coming back to school to do massage was my dream. After having my stroke, massage therapy made a huge difference on my life, giving me back the feeling on my left-side of my back," said Lopez. "I wanted to give back what I received from the benefits of massage. I truly love my job, and it's such a fulfilling field to work in. It continues to give back to me every time I see a client smile with relief."
For the first time, prospective students don't have to wait until the fall semester to start building an educational foundation to join Lopez in this essential healthcare field. SCC is now accepting applications for its first spring cohort of Therapeutic Massage students, who will begin the program in January.
Massage therapists use hands-on manipulation of muscles and soft tissue to help restore health and well-being to clients. Through a wide variety of methods, massage therapy can reduce muscle tension, stimulate blood flow, and increase joint flexibility and oxygen levels throughout the entire body.
SCC's Therapeutic Massage program offers both a diploma for students beginning their career paths and an associate degree option for new therapists and therapists that are already licensed.  SCC is also an approved provider for continuing education courses through the National Certification Board for Therapeutic Massage and Bodywork that satisfy ongoing credentialing requirements for practicing massage therapists.
According to the U.S. Bureau of Labor Statistics, employment of massage therapists is projected to grow 21 percent from 2019 to 2029, much faster than the average for all occupations in the United States.
"Massage therapy is an increasingly important position in the ever-growing health and wellness field, and the demand for qualified massage therapists is very high, both nationally and also right here in Western North Carolina," said Jennifer Burgess, SCC Instructor and Massage Education Coordinator. "Massage therapy is beginning to be integrated into the health care routines for many people.  It is slowly starting to become widely accepted in health care settings as more research is being done about the benefits of massage."
Employment opportunities include hospitals/rehabilitation centers, health departments, medical offices, nursing homes, private practice, chiropractic office or spa. Graduates will be eligible to take the Massage and Bodywork Licensing Exam that is required before becoming a licensed massage therapist in North Carolina.
The deadline to apply for spring entry into the program is January 7. To apply, visit your nearest SCC campus location or www.southwesterncc.edu.