Commencement FAQs
Southwestern Community College
Drive-Through Commencement - Spring and Summer 2020
Saturday August 8, 2020
Update from SCC:
Due to current COVID-19 health restrictions on public gatherings, we will hold a drive-through commencement ceremony for spring and summer 2020 graduates on Saturday, Aug. 8, on our Jackson Campus. This was the option most preferred in a recent survey of graduates.
The event will run from 10 a.m.- 1 p.m.
To keep everyone safe, we will limit attendance to the number of family and friends who can safely fit into each graduate's vehicle as well as a handful of SCC administrators and personnel.
Please see below for a map that shows traffic flow for our ceremony followed by a list of frequently asked questions that will help you plan accordingly and follow the format we have created for this unique commencement ceremony. Our intention is for this event to be a smooth, safe and fair event for all of our graduates. Thank you for your understanding during these unprecedented times.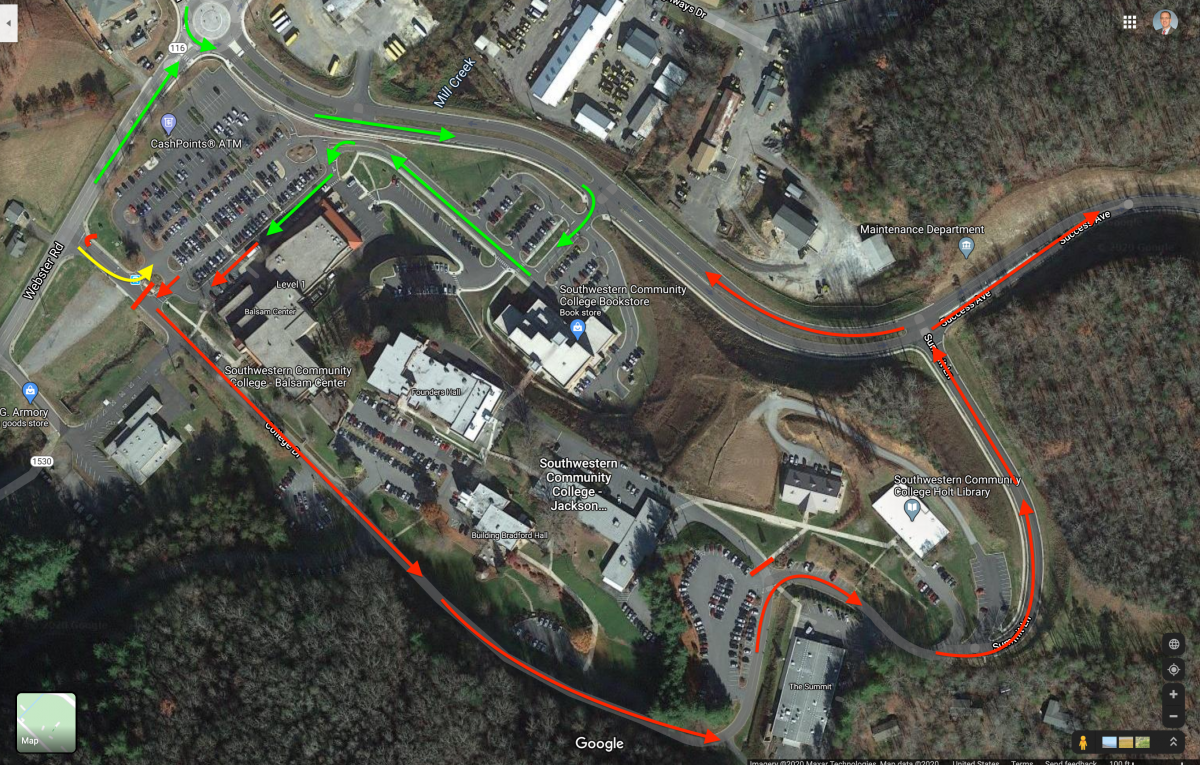 (Click HERE for larger view of the map)
Green = Traffic flow for entry into the graduation event
Red = Traffic flow for exiting the graduation event
Yellow = Entry and parking for SCC Faculty ONLY. Graduates and the public are being asked not to park at any point during this event and to follow the stream of traffic. 



























Frequently Asked Questions:

Am I required to participate in the drive-though ceremony to get my diploma?
Participation is not required, and diplomas are mailed to all graduates. However, you have worked hard to earn your degree, so we hope you will join us for this special ceremony to recognize your accomplishment.

Can I still participate in this event if I previously said I was not going to participate in the commencement ceremony?
Yes you can! You do not need to notify us, just show up for the event!

How does the drive-through event work?
Graduates will be lined up in vehicles which proceed through the presentation area front of the Balsam Center. 

As you approach the Balsam Center, SCC representatives will check you in at your vehicle. 

When you approach the presentation area, your name will be announced and Dr. Tomas will present you with a diploma cover through the window of your vehicle. 

Your photograph will be taken by an SCC photographer as you receive your degree.  These photos will be available on the SCC Facebook page.

You will exit campus as directed by SCC staff.

Where will the ceremony be held?
The drive-through ceremony will be held on SCC's Jackson Campus in Sylva. Presentations will be made in front of the Balsam Center.

What time should graduates arrive?
You should plan to arrive and get in line with your car according to the division (Arts & Sciences, Career Technologies, and Health Sciences) you are graduating from and the first letter of your last name:
Arts & Sciences A-L: 10:00 AM

Arts & Sciences M-Z: 10:20 AM

Career Technologies A-L: 10:40 AM

Career Technologies M-Z: 11:00 AM

Health Sciences A-H: 11:20 AM

Health Sciences I-Z: 11:40 AM

What if I am receiving multiple degrees from different divisions?
If you are receiving multiple degrees or credentials from different divisions, then you may pick the one that you wish to line up with. You will only participate in the event one time, but you will still receive recognition for all credentials at that time.

Where do I go when I get to SCC?
You should drive onto Success Drive (the new road) headed toward the Burrell Building. Refer to this map for the vehicle line-up and traffic flow.

How long will the event last?
The entire event will last approximately two hours, but it is estimated your celebration should only be 20-30 minutes.

How many vehicles can accompany each student?
Each graduate is limited to one vehicle in the line up.

Can others ride with me in the vehicle?
Yes! Family and friends are encouraged to ride along with you.

Where should I be in the car?
Graduates need to be seated at a window on the driver's side of the vehicle, so you may be driving or riding in the rear passenger seat behind the driver.

Can two graduates ride in the same vehicle?
Yes, two graduates may be in the same vehicle, but both would need to be on the driver's side.

Will I exit the vehicle at any time?
No, you and your guests will remain in the vehicle for the entire event. 

Can other family and friends drive and park to view the ceremony?
No, the ceremony is designed as a drive-through only event and there will not be a viewing area on campus. However, family and friends may view the event live online using this link.

How can my family and friends watch the event online?
The event will be livestreamed online and may be accessed beginning at 10:00 AM on August 8 from the SCC Webpage or at this url https://livestream.com/southwesterncc/dt-commencement.

Should I wear a cap and gown?
Caps and gowns are not required, but you may wear them if you choose.

How will I get honor cords if I earned those?
If you earned latin honors based on your GPA, then you will be given honors cords in the vehicle line as you approach the presentation area.

Can I participate in a traditional ceremony at a later date?
Yes! All students will have the option of participating in the next scheduled traditional ceremony, even if they  participate in the drive-through event!

Can I decorate my vehicle to celebrate the occasion?
Yes, you are encouraged to show your pride and celebrate your accomplishments. 

What happens in the event of adverse weather?
You will be sent notifications to your SCC email and notices will be posted on the college website if the event is impacted by adverse weather. The event would likely proceed in the event of rain, but may be delayed if there are storms or dangerous conditions.

What safety precautions are being taken?
SCC will be working to ensure all public health guidelines are met for the event:

The event occurs entirely outdoors.

You will remain in your vehicle and your interaction with SCC employees will be less than one minute.

Faculty and staff will be wearing face coverings if approaching your vehicle or interacting within 6 feet of others.

Diploma covers and other materials handed to you will only be handled by gloved hands.

Hand sanitizer will be available for required use by SCC employees and available for your use.

Diplomas will be mailed within 6-8 weeks following graduation.

We will issue your Parchment digital diploma/certificate approximately 2-4 weeks after graduation. To claim your digital diploma/certificate, just look for an email from Parchment and SCC to your student email account. This service will allow you to have permanent, online access to a secure digital version of your diploma, which makes it easy to share your credentials on social media. It's official, and it's free!

If you have questions, please contact the Registrar's Office at 828.339.4219 or e-mail registrar[at]southwesterncc[dot]edu

Click here for Commencement Instructions