State Authorization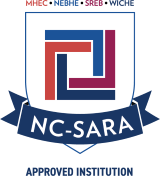 What Is State Authorization?
Institutions must obtain approval from states for local and distance postsecondary educational activities relevant to the delivery of educational programs. Activities include online learning, non-classroom experiences, faculty members who live outside of North Carolina, proctoring, professional licensure and marketing. Compliance with individual state requirements is now part of the Higher Education Opportunity Act of 2008, Amended 2010. H 600.9 (c).
In What States Is Southwestern Community College Authorized To Offer Online Courses?
Southwestern Community College has been approved by NC to participate in the
National Council for State Authorization Reciprocity Agreements
. NC-SARA is a voluntary, regional approach to state oversight of postsecondary distance education.
The states in which the college is authorized to serve students are listed below. If you reside in a state not on this list, you are not eligible to register for online classes at SCC at this time. If you have questions, please contact our admissions office at
admissions[at]southwesterncc[dot]edu
.

NC-SARA States 

| | | | |
| --- | --- | --- | --- |
| Alabama | Alaska | Arizona | Arkansas |
| Colorado | Connecticut | Delaware | District of Columbia |
| Florida | Georgia | Hawaii | Idaho |
| Illinois | Indiana | Iowa | Kansas |
| Kentucky | Louisiana | Maine | Maryland |
| Massachusetts | Michigan | Minnesota | Mississippi |
| Missouri | Montana | Nebraska | Nevada |
| New Hampshire | New Jersey | New Mexico | New York |
| North Carolina | North Dakota | Ohio | Oklahoma |
| Oregon | Pennsylvania | Puerto Rico | Rhode Island |
| South Carolina | South Dakota | Tennessee | Texas |
| Utah | Vermont | Virginia | Washington |
| West Virginia | Wisconsin | Wyoming |   |
Is Southwestern Community College accredited?
Yes, Southwestern Community College is accredited by the Southern Association of Schools and Colleges Commission on Colleges, 1866 Southern Ln, Decatur, GA 30033, (404) 679-4500,  to award associate degrees, diplomas and certificates.
What if I need help resolving a complaint?
If you have a complaint, you should attempt to resolve the complaint through the SCC grievance procedure.
Southwestern Community College
447 Drive, Sylva, NC 28779
828.339.4400
Website:
Complaint Grievance Procedures
Form:
Student Complaint Information Sheet and Form
If a complaint cannot be resolved through SCC's grievance procedures, students may file a complaint with SARA-NC (State Authorization Reciprocity Agreement-North Carolina)

Contact Information:
SARA North Carolina
NCSEAA
PO Box 14103
Research Triangle
Park, NC 27709 or email to
complaint[at]saranc[dot]org
Phone contact: (855) SARA1NC, toll free  or (855) 727-2162, toll free
Website: http://saranc.org/
 
These resources may also be helpful in resolving complaints:
The North Carolina Post-Secondary Education Complaints Unit.
North Carolina Post-Secondary Education Complaints
c/o Student Complaints
University of North Carolina System Office
910 Raleigh Road, Chapel Hill, NC 27515-2688
919.962.4558 or send an email to:
studentcomplaint[at]northcarolina[dot]edu
Website: North Carolina Post-Secondary Education Complaints
Regional Accreditor (SACSCOC) Complaint Process
If a student has evidence that an institution is in significant non-compliance with SACSCOC standards, policies or procedures, the individual should inform SACSCOC using the Complaints Against Institutions: Policy Sheet and Form.
President
Southern Association of Colleges and Schools Commission on Colleges
1866 Southern Lane
Decatur, GA 30033
404.679.4500
 
What about professional licensure programs offered by Southwestern Community College?
SCC has been approved to participate in the National Council for State Authorization Reciprocity Agreement (NC-SARA). However, NC-SARA does not deal with professional licensing board approval for any courses or programs leading to professional licensure. If you are not a resident of North Carolina and you are taking an online course or hybrid program leading to professional licensure, please contact the program representatives listed below to discuss licensure options prior to beginning your course of study.

Mitch Fischer - Dean of Health Sciences  (for EMS, Nursing, Occupational Therapy Assistant, Physical Therapy Assistant, Radiography, and Respiratory Therapy)
447 College Drive
Sylva, NC 28779
800.447.4091, ext. 4331 or  m_fischer[at]southwesterncc[dot]edu

Randy McCall - Cosmetology Program Coordinator/Instructor (for Cosmetology)
447 College Drive
Sylva, NC 28779
800.447.4091, ext. 4238 or rmccall[at]southwesterncc[dot]edu

Students may also view the disclosure statements below to determine if an SCC curriculum:

– meets state educational requirements for licensure or certification,
– does not meet state educational requirements for licensure or certification, or
– has not been determined to meet state educational requirements in that state.
This information is updated annually each Spring.  Although we strive to connect you with the best information possible, Southwestern Community College encourages students to confirm whether a particular program meets requirements for professional licensure and/or certification outside of the State of North Carolina prior to enrolling.  Contact your faculty advisor for assistance in this process.