Career Closet Helps Job Seekers Dress for Success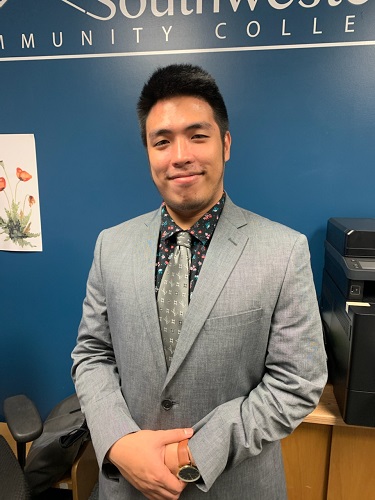 Joshua Layno, a 2020 graduate of the Physical Therapist Assistant program, visited the Career Closet for a tie to wear to an SCC job fair. 
You don't get a second chance to make a good first impression. 
That's why the College and Career Readiness Department at Southwestern Community College provides a Career Closet full of like-new professional and business casual attire. The clothing comes from the generous donations of caring individuals from campus as well as the community. Most items are gently-used, but donations are often received of clothing that has never been worn - some with the department store tags still attached.
Clothing from the Career Closet is FREE and available to students, graduates, and community members as part of its Human Resource Development (HRD) function, which offers Career Readiness Labs to assist anyone in need of resume building, interview practice, and basic computer skills, just to name a few.
SCC accepts donations of button-down and polo shirts, suit coats, ties, pants, shoes, blouses, skirts, jackets, dresses, and other business accessories that are in good condition and preferably on hangers.
We encourage all areas of the college to remind students the Career Closet is here for them. The main closet is at the Sylva campus and there is a rack closet at the Swain Center in Bryson City.
If you would like to shop or donate to the Career Closet, please contact Donna Wilson at 828.339.4272.