TOPs - Empowering Students the Appreciative Advising Way!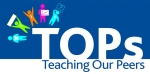 Presenter:
Jennie Ashlock - Administrative Assistant - Enrollment Services (Swain), Tori Ellison - Success Coach, Dominique Benson - Success Coach, Jodie Waldroup - Career Counselor
Description:
Appreciative Advising is a collaborative, strength-based framework advisors use with students to identify and successfully navigate their educational goals. Several members from Enrollment Services will present: Tori Ellison, Dominique Benson, Jodie Waldroup and Jennie Ashlock. All presenters received training in Appreciative Advising, use the model with their students and some have co-facilitated the online Appreciative Advising course.
Material shared in this workshop comes from their training programs, including research on the positive results experienced by other colleges using Appreciative Advising. This lively, interactive workshop includes an overview of the Appreciative Advising process and activities to use with students.
If you attended the spring presentation by Dr. Jenny Bloom, a co-founder of the Appreciative Advising and Appreciative Education movements, and want to learn more or are new to Appreciative Advising, then please come. The workshop is appropriate for any faculty or staff working directly with students.
 
Learning Objectives:
Participants will:
Gain a deeper understanding of the Appreciative Advising model.
Identify ways to apply the six steps of Appreciative Advising when working with students.
Identify one of the six steps to focus on in the coming semester.