TOPs - Getting Grit...and Teaching Grit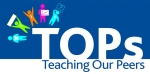 Presenter:
Tracy Chapple, Psychology Instructor
Start Date:
January 18, 2018, 3:00 pm
End Date:
January 18, 2018, 4:00 pm
Description:

Grit is defined as having passion and perseverance over time. It is considered to be one of the most important qualities to possess for succeeding in anything in life and is crucial in achieving long-term goals. Psychology has known the importance of grit for several years, and researchers have recently been exploring evidence-based approaches to developing it. We will look at what grit is, what it isn't, and how to help our students develop more of it.
Learning Objectives:
defining grit
what are various faux types of grit
learning exercises to help our students develop more grit