TOPs - Here, there and everywhere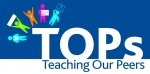 Presenter:
Vicki Todd, Math Instructor
Start Date:
February 6, 2019, 10:00 am
End Date:
February 6, 2019, 11:00 am
Description:
How can you teach a class with students who are in front of you as well as in another county? I have developed techniques for an ITV class that could easily be modified for a hybrid or on line class. Come see how I teach math in real time with students who are an hour away as well as in front of me. These techniques can easily be applied to face to face, hybrid or online classes.
Learning Objectives:
Learn how to use google meet as well as drive to reach students that you may never meet in person.