TOPs - Icebreakers and Energizers for the Classroom. Simple group activities to engage your students and start your semester with a bang!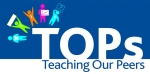 Start Date:
December 6, 2017, 1:00 pm
End Date:
December 6, 2017, 2:00 pm
Location:
Bradford 306 - Center for Teaching Excellence
Description:
This highly interactive workshop will introduce the participants to a variety of icebreaking and energizing activities to be used in the classroom. Participants should dress in comfortable clothes and shoes and come prepared to be silly, hold hands, frolic, and have fun.
Learning Objectives:
Participants will learn and leave this workshop with at least a dozen different activities that they can use to start a semester and help students interact with each other. Participants will also be made aware of resources available on the web to further their "bag of tricks" with a plethora of options for even more exciting and engaging activities.