TOPs - Job & Career Preparation - Coaching the Soft Skills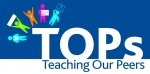 Presenter:
Melanie Price, College and Career Readiness Coordinator
Start Date:
January 24, 2019, 9:00 am
End Date:
January 24, 2019, 10:00 am
Description:
The abilities to listen, communicate, work in teams, and self-assess are "real world" skills critical to job success and are valuable for any occupation, skilled or professional, at any level of education. Let's share with students what SCC offers them as students but also what SCC offers them and their families for job and career preparation.

 
Learning Objectives:
Each learner will walk away knowing
how they can incorporate certain soft skills into their students' daily lives
what services are offered by College & Career Readiness for the students as well as their families and friends
about the availability of FREE interview clothing from our Clothes Closet.