TOPs - The Role of Appreciative Advising in PEAK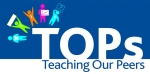 Start Date:
November 1, 2017, 11:00 am
End Date:
November 1, 2017, 12:00 pm
Description:

In this session attendees will get an overview of the Appreciative Advising model and how it is incorporated into our QEP initiative, PEAK. Advisors will learn the importance of their role in PEAK with reviewing Reflection Essays and Five Year plans with students during advising appointments. They will also walk away with strategies and tools for their "Advising Toolbox" with adopting the Appreciative Advising model into their advising practice.
Learning Objectives:
Attendees will learn:
How PEAK incorporates Appreciative Advising.
How Advising at SCC is integrated into PEAK.
Tips and strategies for adopting and implementing the Appreciative Advising framework into their advising practice.
References:
Bloom, Jennifer L., Bryant L. Hutson, and Dr Ye He. The appreciative advising revolution. Stipes Pub., 2008.