TOPs - The Thinking Environment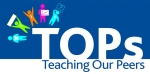 Presenter:
Matt Cass, Physics Instructor
Start Date:
February 6, 2019, 2:00 pm
End Date:
February 6, 2019, 3:00 pm
Location:
Burrell Building, Room 203
Description:
Nancy Cline began Time to Think in 1984 with a singular goal in mind: to change the way the world solved problems. Her 10 step approach to creating an atmosphere for problem solving is revolutionary in the way it eliminates fear and uncertainty in those involved with the problem to present a clear path forward to success by the use of incisive questions to remove underlying assumptions to why we "think" we can't overcome a problem. Matt has used The Thinking Environment model in both his personal life as well in the classroom as a way to tackle subjects that may otherwise seem insurmountable. He believes our institution can benefit from this problem solving approach and and would love to share it with you.
Learning Objectives:
Understand the 10 steps required for creating a thinking environment.
Understand your role as quiet listener.
Become familiar with the use of incisive questions to help the problem solver remove underlying assumptions.