NASA 'Space Apps Challenge' will be held through SCC Oct. 2-4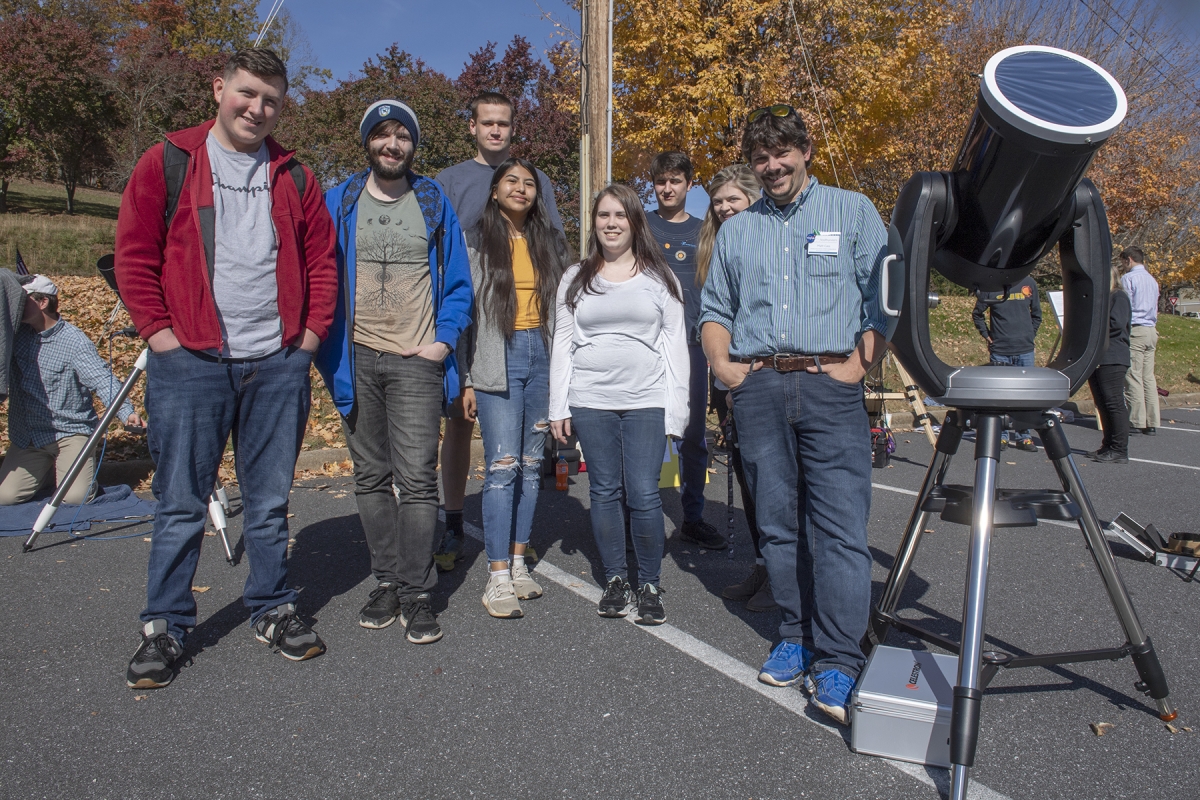 Students in SCC's Descriptive Astronomy course pose with a solar telescope on the Jackson Campus during the 2019 astrological event known as the Transit of Mercury. Pictured are, front row, from left, Conner Barnes of Denver, Tyler Nantel (Cullowhee), Leslie Silva (Sylva), Kathleen Allen (Cullowhee) and SCC Physics Instructor Matthew Cass.
Back row, from left, Noah Henderson (Otto), Max Sainz (Franklin) and Destiny Bryson (Franklin).
Do you have what it takes to solve the biggest problems on Earth and in space? Southwestern Community College's Space Apps Challenge, a NASA innovation program, will give you a chance to try just that.
Over three days, Oct. 2-4, students will work completely virtually in teams with mentors to come up with creative solutions for real world problems on Earth and in space. The theme for this year's event – "Take Action" -- is a critical reminder that anyone can make a difference, even from the comfort and safety of their home.
Presentations of challenge solutions will be on Sunday, Oct. 4th. Two teams will advance to the international level. Each member of the winning teams will get a home voice controller.
Space Apps introduces problem-solvers worldwide to NASA's free and open data. NASA missions to Earth, our Sun and solar system, and out into the universe – all gather data in pursuit of new knowledge, to expand understanding through new scientific discoveries, and to help improve life on Earth. By using NASA data to solve each year's challenges, Space Apps teams learn about NASA's data and share in the creation and application of the knowledge that results.
"Space Apps is an amazing opportunity which has led to some participants starting a business around the ideas that come out of the challenges," said Randi Neff, who will be leading SCC's participation in the event as their STEM Collaborative Project Coordinator. "Even if it's just a weekend project, people come away from the experience with an incredible sense of accomplishment."
To kick off the event and give students a chance to learn about how it works, a bootcamp will be held online from 3-6 p.m. on Oct. 2.
Space Apps welcomes participants of all ages. Participants under age 13 must have a parent or guardian register for them. The parent or guardian will need to monitor the entire event. There is no fee to participate.
SCC is the only community college in the nation that has a cooperative science agreement with NASA.
For more information on SCC's Space Apps Challenge and to register, please visit: 2020.spaceappschallenge.org/locations/sylva-nc