Learning Assistance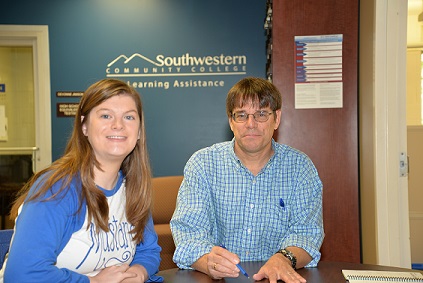 NOTICE              
The Jackson and Macon LACs will close at NOON, Friday, May 17, for the break between spring semester and the summer session. The Macon LAC will reopen at 8 a.m., Tuesday, May 28; its summer operating hours are 8 a.m.-2 p.m., Monday through Thursday. (It is NOT open on Friday mornings.) The Jackson LAC will reopen at 9 a.m. on May 28; its summer hours follow: 9 a.m.-3 p.m., Monday-Thursday, and 8 a.m.-Noon, Friday.
The Jackson and Macon LACs offer free, drop-in assistance provided by Learning Consultants who possess a variety of specialties. Either advanced or intermediate writing help is available  at all times during operating hours, and a Mathematics and/or Sciences Consultant is on duty during most of those hours. Learning Consultants also help to strengthen basic skills, such as test preparation, computer/Internet use, reading, and research.
We also offer free one-on-one or small-group tutoring  for curriculum classes via our CRLA-certified Tutor Program.  This program offers valuable academic assistance through competent, qualified peer and non-peer tutors who strive to encourage student motivation and achievement as well as promote academic excellence.
In addition to the earlier mentioned services, we offer free online tutoring.  Each SCC student is given 240 minutes per semester of online assistance in content areas, including essay submissions.
Please click on the links to the left to get more in-depth information about the LACs, Tutor Program and Online Tutoring.
The fall and spring semester operating hours for the Jackson and Macon LACs are 8 a.m. - 6 p.m., Monday - Thursday, and 8 a.m. - Noon, Friday, Summer operating hours for both LACs are 9 a.m. - 3 p.m., Monday - Thursday, and 8 a.m. - Noon, Friday. 
The hours for specific drop-in assistance vary and can be found here:
Jackson LAC Subject Assistance Schedule
Macon LAC Subject Assistance Schedule
Jackson Campus LAC, Located in Oaks Hall, Room 101 - Phone: 828.339.4325 or 800.447.4091 ext. 4325,
tknott[at]southwesterncc[dot]edu
Macon Campus LAC, Located in Cecil Groves Center, Room 230 - Phone 828.306.7028 or 800.447.4091 ext. 7028,
j_willis[at]southwesterncc[dot]edu
SCC Tutor Program, Located in Oaks Hall, Room 101 - Phone 828.339.4304 or 800.447.4091 ext. 4304, 
tutoring[at]southwesterncc[dot]edu