Learning Assistance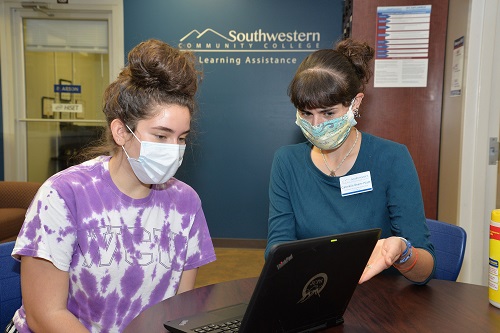 Free, in-house and online help is provided on a drop-in basis by trained, multi-skilled Tutors who provide assistance with mathematics, sciences, computer, writing in all courses, etc., and connect students with other types of assistance. Also, these professionals focus on successful habits, such as study skills.
In-House Hours
Jackson Campus
In-house hours are 8 a.m.-5 p.m., Monday-Thursday. The number of individuals allowed in each area is limited during the COVID-19 pandemic. Therefore, students will benefit from calling 828.339.4325 or emailing tknott[at]southwesterncc[dot]edu to schedule an appointment for assistance. Appointments are required for test proctoring. (See "Important Information for Students" on the Exam Proctoring Web page here.)
Macon Campus
In-house hours are 8 a.m.-5 p.m., Monday-Thursday, and social distancing is practiced. Therefore, please call 828.306.7028 or email
j_willis[at]southwesterncc[dot]edu
to make an appointment for assistance or to take a proctored test.
Online Hours
During Fall Semester 2020, the LAC also is providing drop-in, online help 9 a.m.-6 p.m., Monday-Thursday; 8 a.m.-Noon, Friday and Saturday; and 6-10 p.m., Sunday. Click on the "Tutoring" button in any Moodle course to access and use it. Also, view the video for more specific directions re using this type of help:     
Have a Question?
Click on the link and complete the 
Student Self-Referral Form
.
The full-time Learning Assistance Coordinator will respond at the earliest possible moment between 8 a.m. and 5 p.m., Monday-Thursday, and 8 a.m.-Noon, Friday.
Faculty Forms
LAC Referral
 (Drop-in Tutors with whom your students work provide feedback, and the LAC Coordinator sends completed forms to you via campus mail.) 
To access and complete the Exam Proctoring Information Sheet, visit the Exam Proctoring page
here
.