Duke Energy Gives $4,500 to New Century Scholars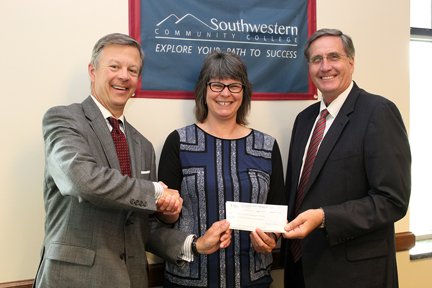 SCC Foundation Director Brett Woods and SCC President Dr. Don Tomas accept a donation from Duke Energy District Manager Lisa Leatherman.
Duke Energy recently gave $4,500 to the SCC Foundation to benefit the New Century Scholars program, which provides support, encouragement and financial assistance to high-achieving students. The program is designed to improve academic readiness, bolster student persistence toward high school graduation, and increase college going-rate of local students.
 "The New Century Scholars program provides support and assistance to talented students who might not otherwise have an opportunity to advance their education," said Duke Energy district manager Lisa Leatherman.  "Duke Energy is proud to contribute to such a valuable and beneficial program in our community."
Each year, seventh graders from throughout SCC's service area (Jackson, Swain, and Macon Counties) are selected as New Century Scholars. The students receive last-dollar tuition assistance as long as they fulfill the program obligations including maintaining their grades and participating in volunteer projects throughout their middle and high school careers.
The program is funded entirely by annual donations from outside sources including corporate contributors like Duke Energy.
"We are so grateful for Duke Energy's gift to the New Century Scholars Program. Duke Energy has a wonderful history of supporting this life changing program and we thank them for their belief and investment in bringing brighter futures to students," said Brett Woods, director of the SCC Foundation.
For more information about the New Century Scholars program, contact Pamela Judson at 
pjudson[at]southwesterncc[dot]edu
 or 828.339.4477.