Nurse Aide program receives scholarship money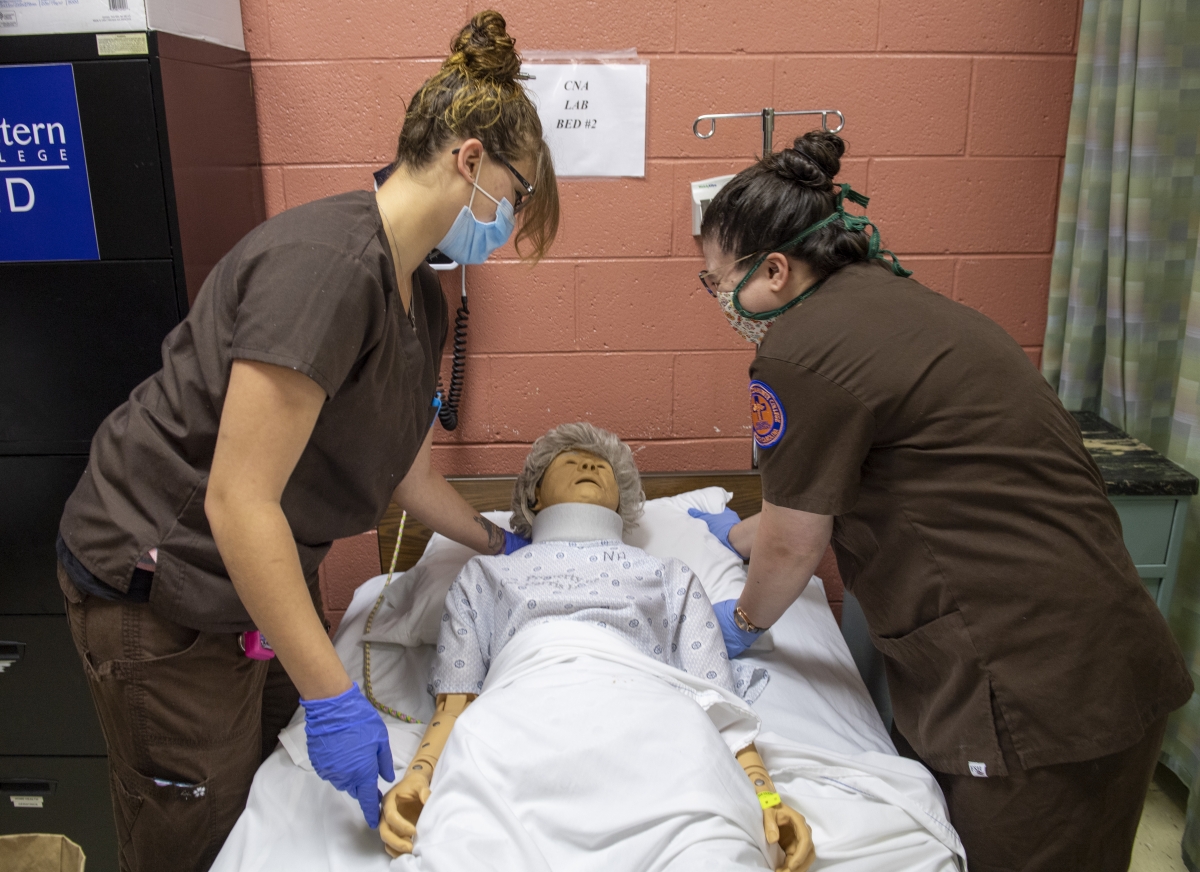 SCC's Nurse Aide program prepares students to become certified nursing assistants (CNAs) working underneath nurses in skilled facilities. Pictured are, from left, Nita Harner of Whittier and Mary "Caitlyn" Gibson of Franklin.
Enrollment in Southwestern Community College's Nurse Aide program just got a lot more affordable.
The North Carolina Community College's System has recently awarded grant money to support students enrolled in the Nurse Aide Program at SCC.
The North Carolina Targeted Assistance Program (NCTAP) is a state grant program designed to increase enrollment for high-demand occupations. This year, the grant will be providing scholarships to eligible students in SCC's Nurse Aide program to cover costs for their spring 2021 tuition.
Since its inception in 2002 NCTAP has aimed to increase the percentage of North Carolinians, particularly those in rural populations, pursuing and easily accessing education and training through NC Community Colleges.
SCC's Nurse Aide program prepares students to become certified nursing assistants (CNAs). CNAs help care for physically or mentally ill, injured or disabled individuals in hospitals, nursing and personal care facilities and mental health settings. Working under the supervision of nurses, CNAs perform much-needed daily tasks such as serving meals, making beds and helping patients eat, dress and bathe.
"Local healthcare providers consistently express the need for qualified Nurse Aides," said Dr. Thom Brooks, Vice President of Instruction and Student Services at SCC. "We are proud to offer this scholarship opportunity to support folks who are interested in preparing for careers as CNAs."
According to the Bureau of Labor Statistics, the demand for nursing assistants is expected to grow eight percent by 2029, a much faster growth rate than the average for all occupations. Many local employers, such as Harris Medical Associates, Skyland Care Center and Tsali Care Center, are constantly seeking CNAs to join their practices.
"With today's number of people who require assistance with their healthcare needs steadily increasing, nurse aides are in even more demand than usual," said Donna Conner, Nurse Aide Instructor and Program Director. "This scholarship will aid in the educational and professional development of a number of students, which in return will benefit many people in our communities for years to come."