Pepsi-Cola of Whittier donates $6,000 to SCC Foundation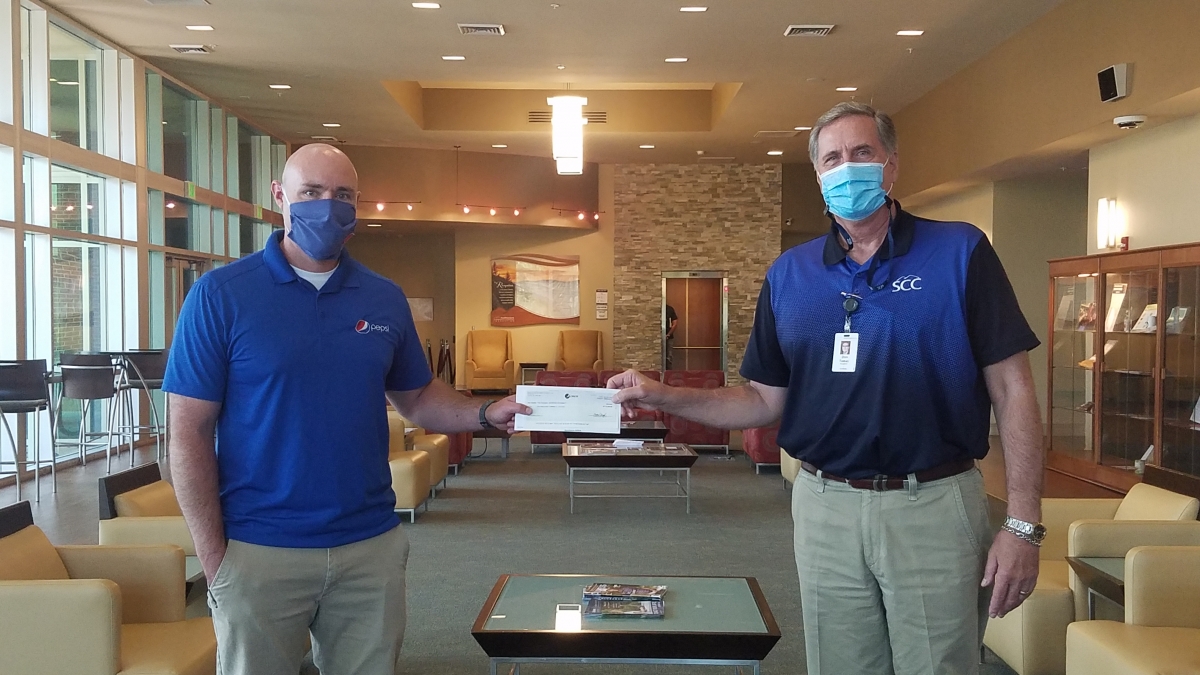 Travis Ashe (left) of Pepsi-Cola Bottling Company in Whittier presents a donation of $6,000 for the SCC Foundation to Dr. Don Tomas, SCC president.
Pepsi-Cola Bottling Company in Whittier recently presented a check for $6,000 to the Southwestern Community College Foundation in support of student scholarships.
Long-time supporters of the college, Pepsi-Cola has given more than $76,000 in financial support to the SCC Foundation over the past 21 years.
"One reason we support the SCC Foundation is because it's local, and we know Southwestern helps the economy here in Western North Carolina," said Ronnie Bowers, location sales manager for Pepsi-Cola Bottling Company in Whittier. "We want to be a part of that."
This year, the SCC Foundation has been able to award a record-breaking $200,000 in student scholarships, largely because of private donations such as this one.
"Pepsi has been one of our most-loyal and generous donors over the years," said Dr. Don Tomas, SCC's president. "We are extremely grateful for their consistent support. So many of our students have been able to achieve success thanks to Pepsi's generosity."
Before 2001, Pepsi-Cola of Whittier used to throw an annual holiday party for all its employees in December. However, for the past 19 years, the employees have decided they would rather donate the funding set aside for the party to a local charity. In recent years, they have been donating that money to the Southwestern Community College Foundation's Student Emergency Fund.
Established in 2014, the Student Emergency Fund helps deserving students who encounter unexpected financial emergencies so that they can remain at SCC and continue working toward their degrees, diplomas and/or certificates.
Despite being able to award a record number of scholarships, approximately half of the students (142 of 270) who applied for financial assistance and met eligibility requirements were unable to receive assistance due to limited resources.
According to Brett Woods, Director of the SCC Foundation, that need has never been greater, especially because of COVID-related hardships currently facing students.
"We are always extremely grateful to receive a financial gift from Pepsi, but especially now during a time of such great need for our students," said Woods. "These are such difficult times, not just for students but also for our communities and businesses, and for Pepsi of Whittier to still provide such generous support means a lot to us."
To support students or learn more about the SCC Foundation, click HERE.