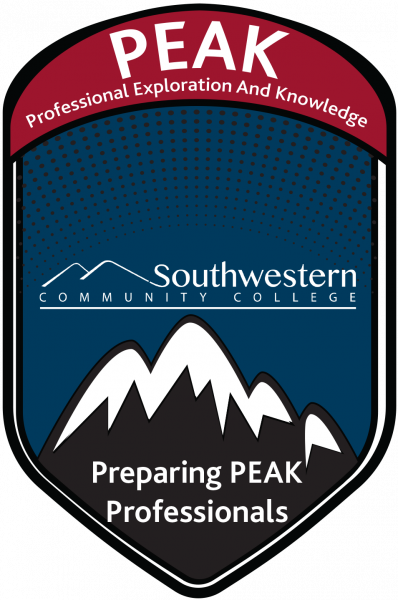 Professional Exploration and Knowledge
At Southwestern Community College (SCC), we are dedicated to enhancing our students' success not only in academics, but also in their chosen professional careers. Our Quality Enhancement Plan (QEP) stems from a two-year long process of identifying areas where our students need direction and support in order to accomplish their academic and professional goals. After analyzing data and feedback from all stakeholders, we narrowed our QEP to focus on our students' learning in career exploration and planning.

We have named our QEP PEAK, "Professional Exploration and Knowledge," a name that encompasses the plan's two goals and their related learning outcomes that we have developed for the plan.

Those goals are:
To enhance student learning as related to career exploration and informed decision making
To strengthen student understanding of career pathways leading to success in career and academic planning

Through the first goal of PEAK, we will impact students early in their academic careers in order to guide them in exploration and research in career fields that match their interests and strengths.

Then, the second goal requires students to carry those interests further in creating a concrete career plan that articulates discrete steps to take to enhance both academic and career success.

PEAK is an institution-wide approach to giving specific, intentional focus to developing graduates who understand and are prepared for their chosen careers. Through PEAK, we ultimately plan to develop a culture of professionalism, exploration, and career preparation at SCC, recognizing that our graduates positively impact our region throughout their successful professional lives.